Breakthrough Our Way
Breakthrough Our Way is an initiative of the Queensland Government's Action on Ice strategy and is funded by the Queensland Department of Child Safety, Youth and Women.
QAIHC, in partnership with Apunipima, has developed and contextualised the Insight Breakthrough for Families Queensland package, resulting in the Breakthrough Our Way program for Aboriginal and Torres Strait Islander families.
Breakthrough Our Way provides voluntary information sessions for families, significant others and the broader community whose lives are affected by ice and other drugs.
The program provides access to free information covering basic harm reduction ideas for families, stages of change, the coexistence of drug use and mental health issues, boundaries and ideas around how to look after yourself. Breakthrough Our Way sessions aim to remind families of the strength they already have and where they can go for further support.
There are four service providers delivering Breakthrough Our Way sessions around the state. Get in touch with your nearest service provider to find out more.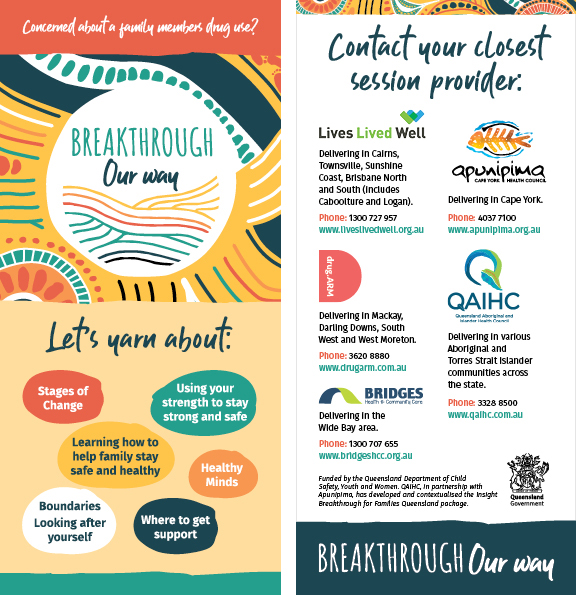 www.liveslivedwell.org.au
www.drugarm.com.au
www.bridgeshcc.org.au
www.apunipima.org.au