QAIHC Chairperson wins prestigious AMAQ award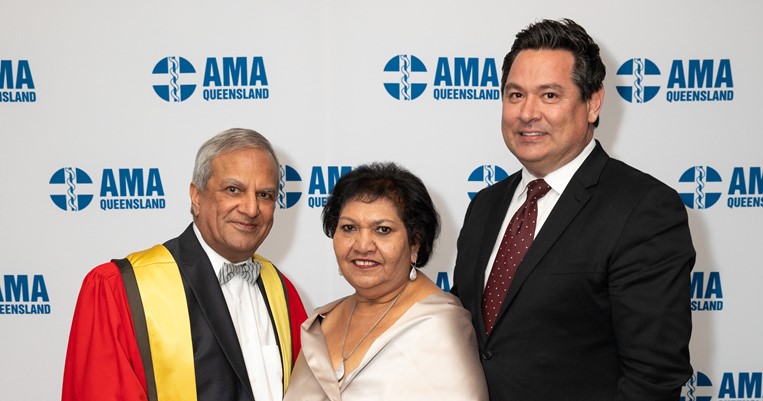 Chairperson of the Queensland Aboriginal and Islander Health Council (QAIHC), Aunty Gail Wason, was recently awarded the prestigious Australian Medical Association Queensland's (AMAQ) Excellence in Health Care Medal.
The award recognises Aunty Gail's unwavering commitment to improving the health and wellbeing of her community. She is the Chief Executive Officer of Mulungu Aboriginal Corporation Primary Health Care Service and has more than 25 years' experience in Aboriginal affairs and health.
Aunty Gail strives to ensure that the community has access to the full range of high quality, culturally appropriate primary health care services that empower clients to fully participate in the management of their own health.
On winning the award, Aunty Gail said, "I'm surprised and humbled to receive this award when there are so many people in our Sector doing good work. I'm thankful for the acknowledgement bestowed upon me by the AMAQ".
"This award is a team effort. Between the team at QAIHC and at Mulungu, I have so many people who help me succeed and I'm grateful for all those I work with, particularly those who don't get recognition for the arduous and meaningful work they do.
"Previous Chairs and CEOs of QAIHC have done some pioneering and innovative work for the Sector and their work shouldn't go unrecognised. The Sector is where we are today, in part, because of them."
QAIHC CEO Neil Willmett "It's great to see a humble leader getting recognition and a mainstream award for her dedication to improving the health and wellbeing of Queenslanders", he said.
"Aunty Gail has experienced first-hand how important it is for clients to be appropriately cared for when attending an Aboriginal Medical Service. The thoroughness and diligence these services show is an important factor in closing the gap, and these are two of Aunty Gail's strong points", said Mr Willmett.